Leveraging Mailchimp, Klaviyo, or Omnisend  to Boost Your Wix Website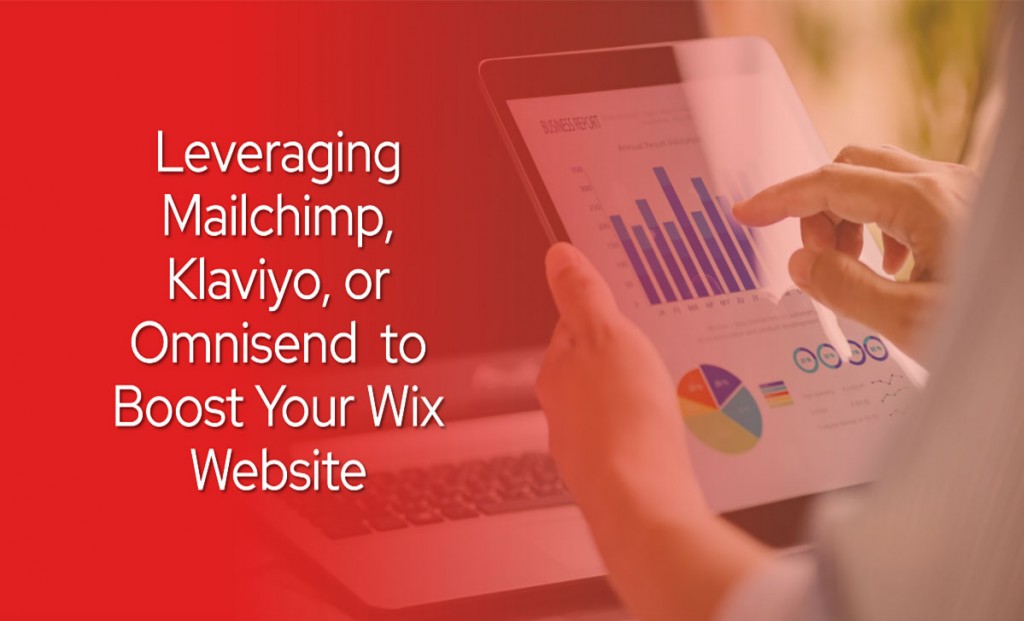 In the digital age, the marketing game has seen a transformative evolution, and platforms like Mailchimp, Klaviyo, and Omnisend have emerged as pivotal tools in this transformation. These platforms provide an unparalleled ability to connect with audiences on a personal level, particularly for businesses harnessing the dynamic capabilities of Wix to build their online presence.
How exactly do these platforms contribute to the advancement of your Wix website? Let's delve deeper.
Firstly, integrating email and SMS marketing platforms like Mailchimp, Klaviyo, and Omnisend with your Wix website can remarkably amplify your reach and customer engagement. Email marketing, characterized by its direct and personalized communication, can be utilized to send targeted messages, promotional offers, and newsletters to your subscribers. With Wix, integrating these services is not only feasible but made remarkably straightforward.
Mailchimp, renowned for its user-friendly interface and robust features, enables businesses on Wix to create tailored campaigns that resonate with their audience. From crafting visually striking emails to managing a comprehensive customer database, Mailchimp offers a plethora of options to Wix website owners.
On the other hand, Klaviyo takes data-driven marketing to the next level. Wix entrepreneurs can leverage its advanced data analysis tools to derive meaningful insights from their campaigns. By interpreting customer behavior and engagement, Klaviyo helps businesses on the Wix platform formulate more informed and strategic marketing decisions.
Omnisend further broadens the horizon by offering omnichannel marketing solutions to Wix users, unifying email and SMS marketing to create a cohesive communication strategy. It allows you to synchronize your messaging across various platforms, ensuring consistent and unified communication, which is crucial in maintaining brand identity and customer trust.
Each platform—Mailchimp, Klaviyo, and Omnisend—brings a unique set of tools and functionalities that, when integrated with a Wix website, can elevate your digital marketing, enrich customer experience, and ultimately, boost your conversion rates. Through automated workflows, you can nurture leads, convert potential customers, and enhance customer loyalty by sending timely, relevant, and personalized content straight to their inboxes or mobile devices.
Furthermore, utilizing Mailchimp, Klaviyo, and Omnisend doesn't just facilitate enhanced communication with your audience; it also furnishes your Wix website with valuable data. This data can be used to optimize your site, improve product offerings, and refine your overall marketing strategy, thereby fostering a customer-centric approach that is bound to drive success.
To summarize, integrating your Wix website with powerful email and SMS marketing platforms such as Mailchimp, Klaviyo, and Omnisend provides a synergistic effect that can significantly uplift your marketing efforts. With the seamless integration capabilities of Wix and the robust functionalities offered by Mailchimp, Klaviyo, and Omnisend, businesses are well-equipped to navigate the digital marketing landscape effectively.
Wix, in harmony with Mailchimp, Klaviyo, and Omnisend, promises not just a website but a comprehensive digital platform that is capable of reaching, engaging, and converting audiences, thereby steering your online business towards sustained growth and success.