Wix Free Shipping Bar
Upsell products to boost cart value & sales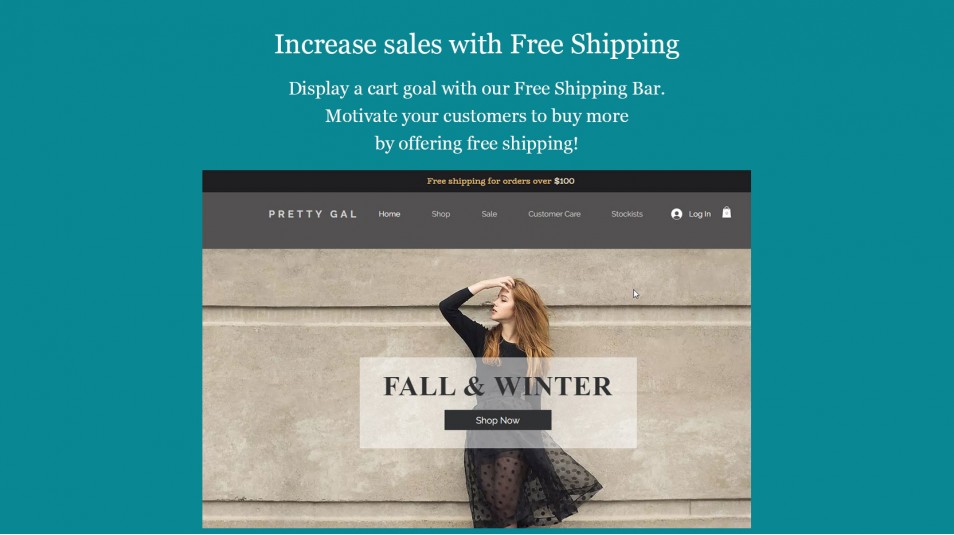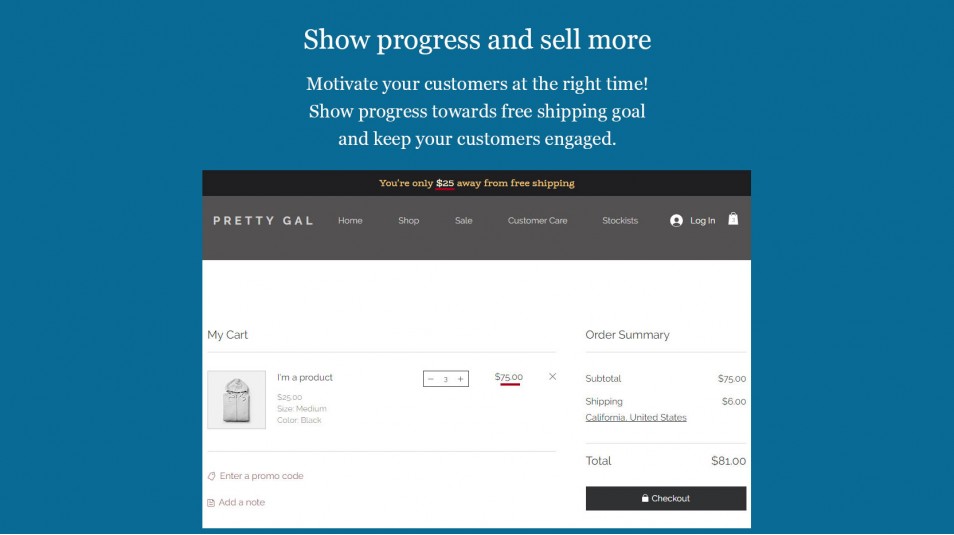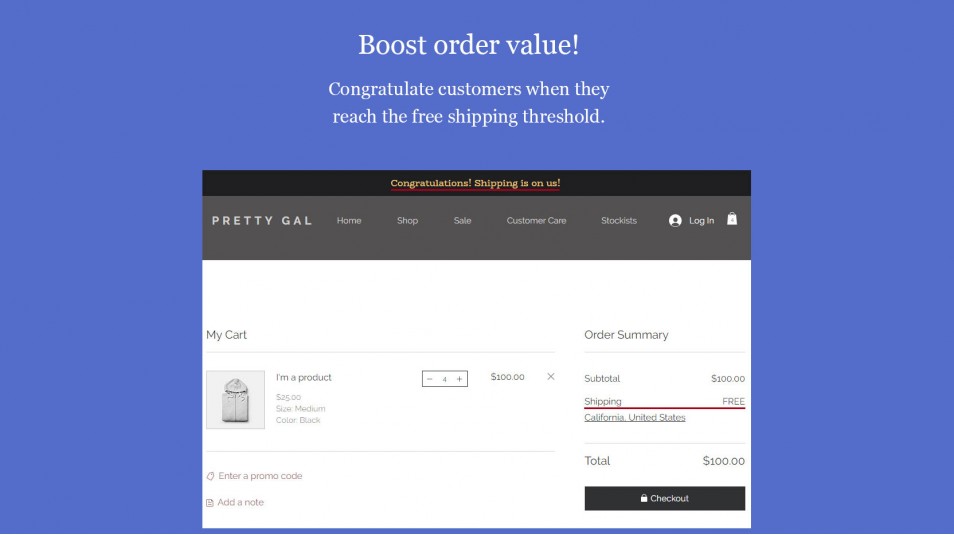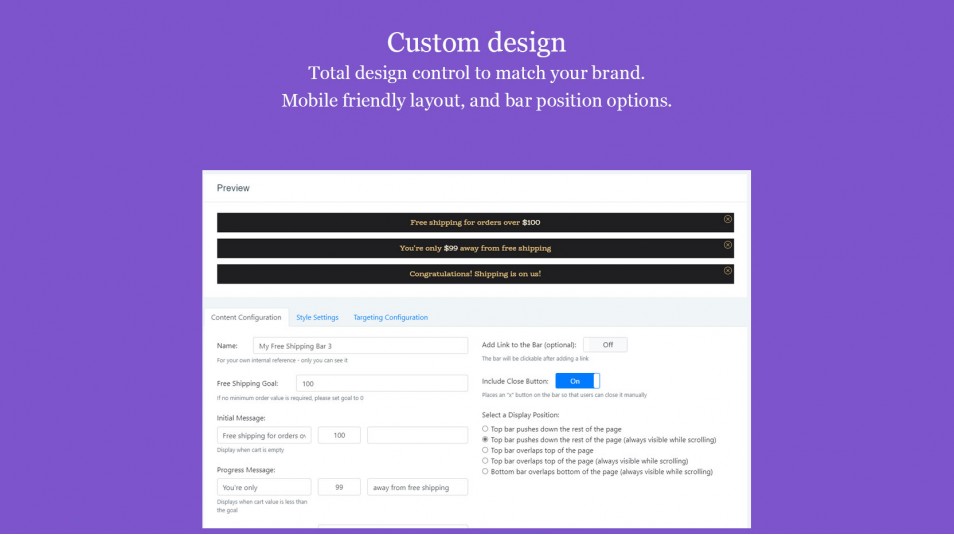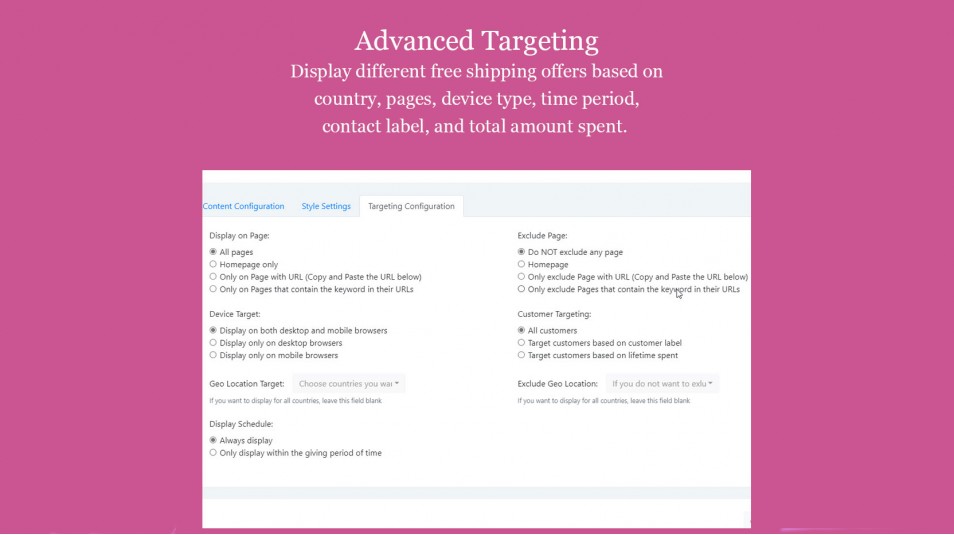 Motivate your customers to increase cart values with Free Shipping
Boost Sales
Promote your free shipping offers and optimize your revenue boost.
Advanced Targeting
Display different free shipping offers based on country, pages, device and time period.
Updating Messages
Show updated text in the bar when customers add more products to their cart.
About the app
Boost Cart Values and Sales
Promote your free shipping offers with updating messages and a cart goal. Motivate your customers to increase cart values and boost sales!
Advanced Targeting
Display different free shipping offers based on country, pages, device and time period. Optimize your revenue boost from free shipping.
Free Shipping Offers with Updating Messages:
* Display your free shipping offer in a customizable bar
* Show updated text when customers put more items in their shopping carts
* Congratulate customers when they get free shipping offers
::break::Advanced Targeting:
* Geotargeting: Set different bars to display to visitors from different countries, such as "Free shipping over $50" in US and "Free shipping over $70" in Canada.

* Display targeting: Configure bars to only display on certain pages, such as all pages, home page only, collection or product pages, or by providing the URLs
Enjoy the app for free, or upgrade the plan for advanced targeting options.
See what others have to say
about us on the Wix Marketplace.
"

"Il y avait des petits soucis qui rendaient la barre inutilisable. L'équipe est très réactive et a su trouver les problèmes et les corriger très rapidement (calcul de taxes notamment). Bravo à eux, car leur appli est maintenant 100% fonctionnelle ! Merci de développer ce genre de petits ajouts qui pourraient être d'origine inclus dans Wix :/"
— Mecastorefrance
"

"I highly recommend the app. Very simple to use and does the job. After a day I see people increasing deals to get free shipping. And thanks to Tomer from customer service who is always there when needed "
— Greengroupil
"

"The app does what it is supposed to do. Would be nice to see more features for placement of the bar, but overall no issues. Customer service was great. Thank you."
— Charliefinch
"

"This is such a great way nudge customers to increase their purchase level to save on shipping. It's a very modest in its function, but really stands out on all pages and updates relatively quickly after adding items to the cart. Definitely a must have for every e-commerce site."
— Bonsiebaby
Watch our instructional videos
before you get started.
How to set up Free Shipping
Frequently asked questions.
Where is my bar?
If you just installed the app, it may take a minute or two for the bar to show.
If you did not just install the app, please check that you are not restricting the bar to certain pages, or only when there is a product in the cart.
If you still cannot see the bar, contact our support.
Why is there still a shipping charge when the free shipping limit is reached?
How app is not able to control the shipping cost in Wix.
You MUST set up free shipping limits in the Wix shipping page for free shipping to apply.
You can follow our
Instructional Video
to see the exact steps for setting free shipping in Wix
Start your free trial today and improve
your business growth!
Advanced
$4.99 9% Off / mo
---
Unlimited active bars
Geo/Country targeting
Customer specific targeting
Activate only on certain pages
Subscribe to "Advanced" Plan
100% Satisfaction Guaranteed!
We stand by all our apps as well as our customer support, and we're committed to making sure that each of our apps work correctly for every customer. If for any reason you are unhappy with an app, if you misunderstood what it does, or simply have a case of buyer's remorse, contact us and we'll gladly issue a refund.