Mailchimp Email Marketing
Boost sales and increase your conversion rates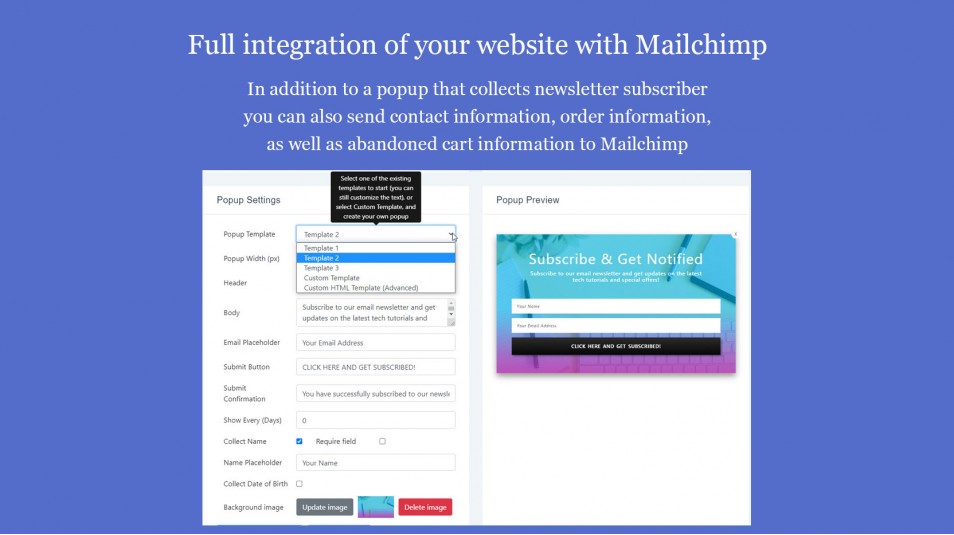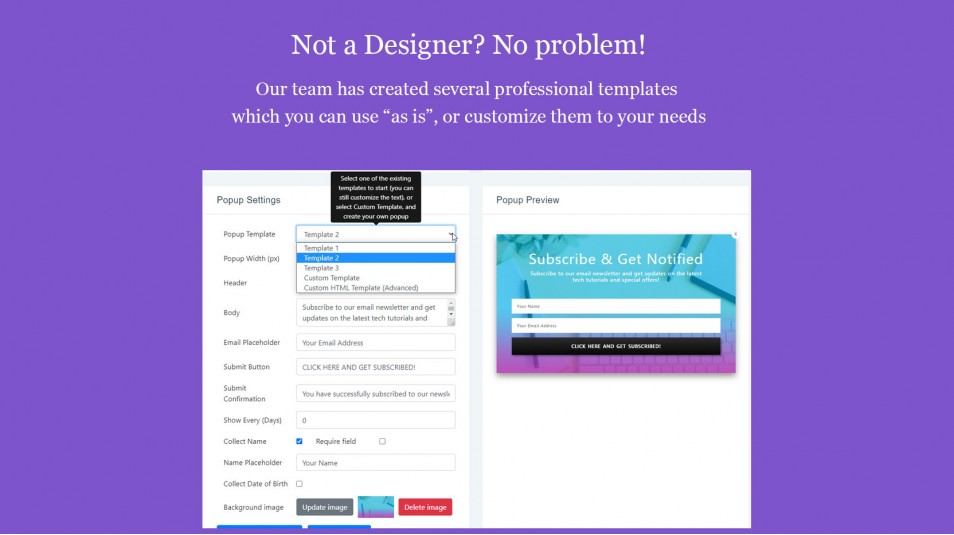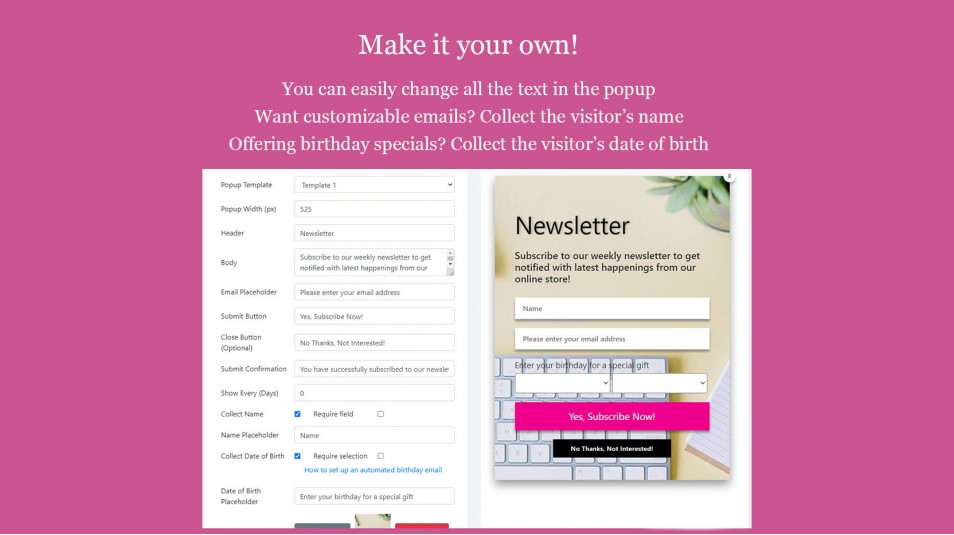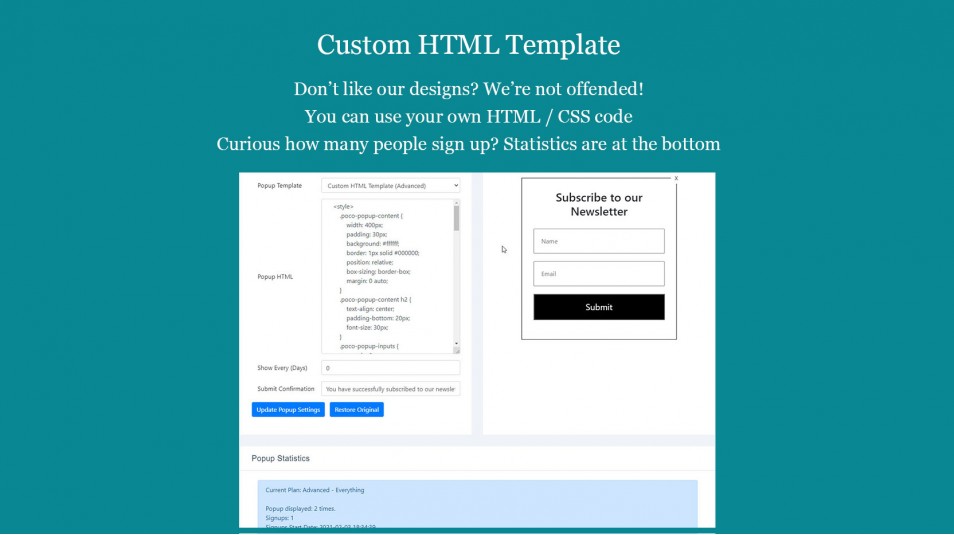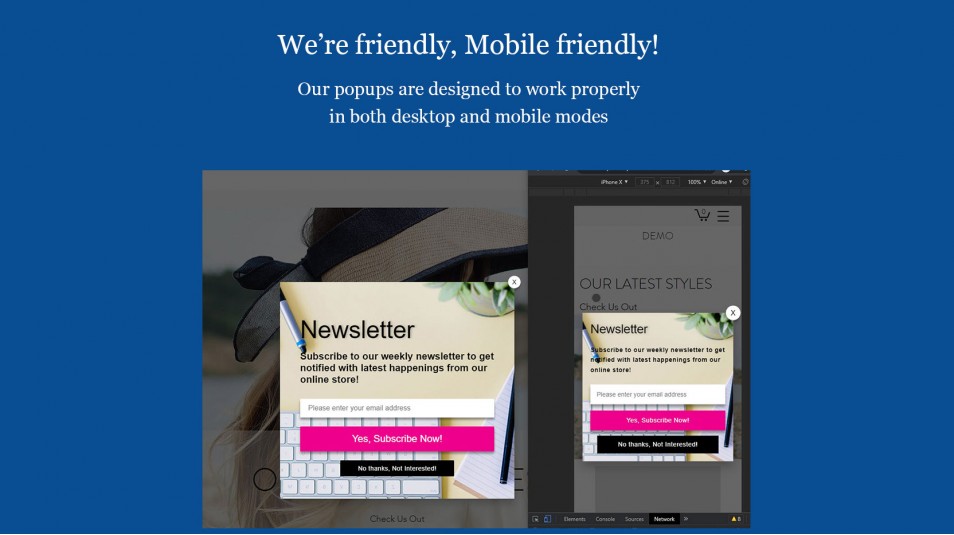 Mailchimp's all-in-one marketing helps you increase your sales from new visitors and existing customers.
1-click install
Connect your Wix website to Mailchimp with one simple click.
Improve conversions
Email customers who abandon their cart (The average rate is a staggering 70%)
Automate Your Emails
Schedule Welcome emails for new subscribers, as well as Win-back & Birthday and more
About the app
Connect your Wix shop to Mailchimp with one simple click from the app!
Customize the popup window to sign up new subscribers who visit your website, including the ability to collect their name and birthday (for personalized emails, and birthday emails).
Mailchimp's all-in-one marketing platform makes it easy to build and execute multi-channel marketing campaigns that drive sales.
* Mailchimp is a 3rd party service that requires a subscription (Free plan available)
::break::Use any of the embedded Wix forms to automatically collect newsletter subscribers from any page on your website, and connect them to your default Mailchimp List, or to specific Lists.
Sync all your existing contacts with Mailchimp, including custom fields (Basic Plan)
Sync existing order information with Mailchimp, to allow for advanced email segmenting, and using Win Back emails to remind customers who haven't purchased anything to come back, with the option to offer them a discount (Advanced Plan)
Sync abandoned cart information with Mailchimp, to allow you to automate abandoned email campaigns. (Advanced Plan)
See what others have to say
about this app on the Wix Marketplace.
"

"The Mailchimp Integration app is working seamlessly for me. I'm in the growth phase and needed a reliable tool to help. Tomer and his team are incredibly helpful and responsive. I love this app. I highly recommend it."
— Stakemediagroup
"

"I found a bug that tech support responded to and the developers corrected within 12 hours. Lightning fast. I haven't explored all the features yet but so far so good!"
— Blum751
"

"So happy that there is now an app that integrates MailChimp with Wix. Support is beyond prompt, helpful, and personable! Thanks for working so hard on making this app for us."
— Sisters806
"

"I have been trying to solve an issue for over 12 months. Poco not only solved the problem but offered responsive tech support. Forget all the zapier automations and install this app."
— Artsinthevalley
"

"FINALLY I found an app that connects my Wix Store to Mailchimp! It syncs perfectly and the customer service is spot on! LOVE IT!"
— Pauline0187
Frequently asked questions.
Why don't I see the popup?
The app sets a cookie whenever the popup is shown, and as long as the cookie is set, the popup will NOT show. To test the popup, open a new incognito (Private) mode browser and visit your website
Can I used an embedded form?
Yes, you can use any of the Wix embedded Contact forms in the website editor. Our app will automatically send those contacts to Mailchimp
Do I have to use your popup?
No, you can create a popup in Wix, and use a Contact form. As long as the form creates a new Wix Contact, our app will send the information to Mailchimp
Start your free trial today and improve
your business growth!
Free
Free Free / mo
---
Collect 100 newsletter subscribers
Send Mailchimp information on 40 orders
Send Mailchimp information on 40 carts
Use Popup & Embedded form signups
Start free trial
Basic
$3.99 3.6% Off / mo
---
Collect unlimited contacts
Sync existing contacts
Send Mailchimp information on 40 orders
Send Mailchimp information on 40 carts
Subscribe to "Basic" Plan
Advanced
$5.99 5.5% Off / mo
---
Collect unlimited contacts, orders & carts
Sync existing contacts
Sync existing orders and products
Send abandoned cart information
Subscribe to "Advanced" Plan
100% Satisfaction Guaranteed!
We stand by all our apps as well as our customer support, and we're committed to making sure that each of our apps work correctly for every customer. If for any reason you are unhappy with an app, if you misunderstood what it does, or simply have a case of buyer's remorse, contact us and we'll gladly issue a refund.