Wix Stamped Reviews
Build Trust & Boost Sales with Product Ratings, Reviews, Images and more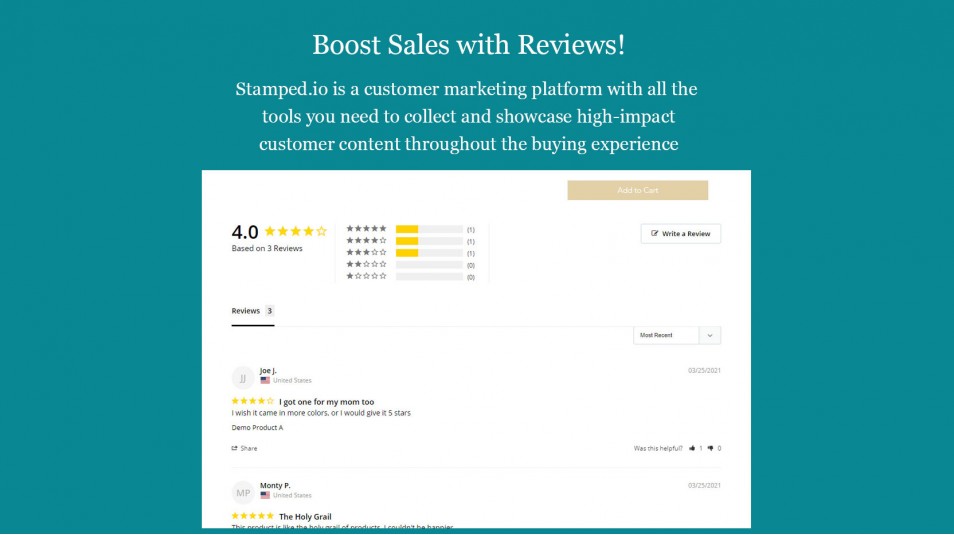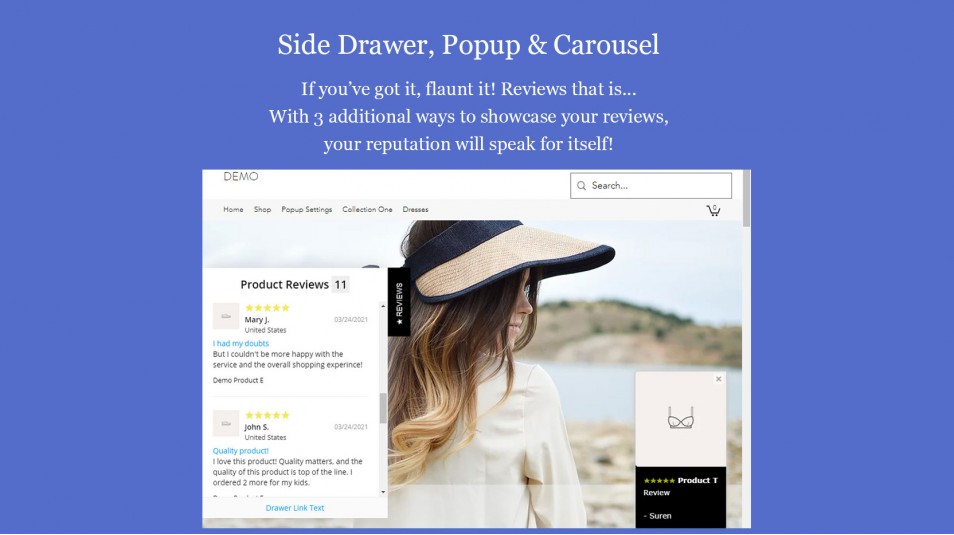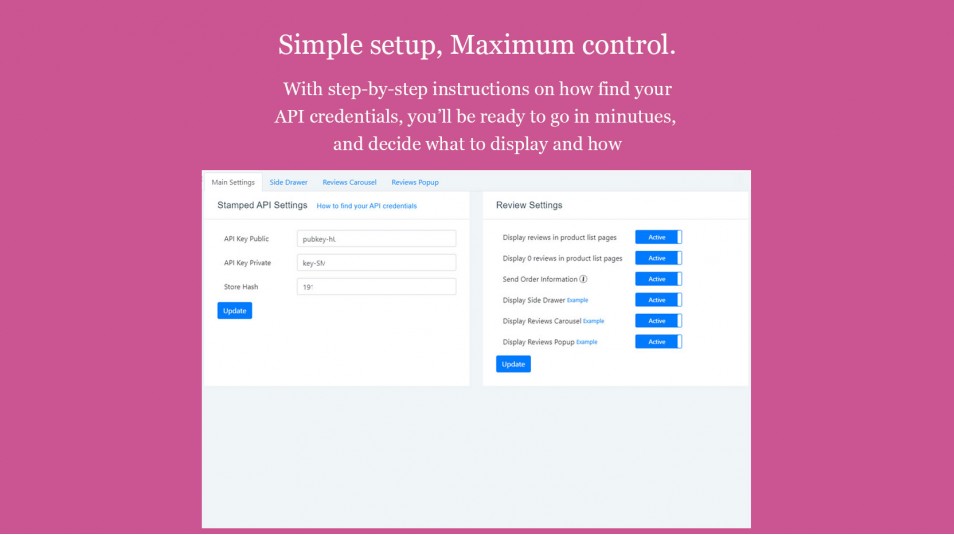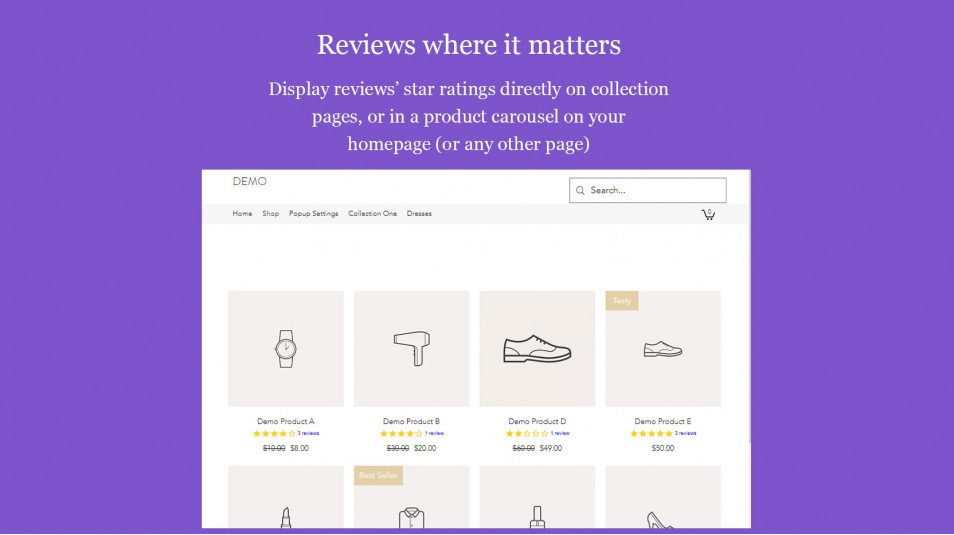 Capture and showcase high-impact Customer content throughout the buying journey
Boost Sales
Collect Product Reviews with customers' images and videos to increase confidence among visitors.
Increased Visibility
Display Reviews on all Product Pages, Collection Pages, and Product Carousels to Maximize visibility.
Get More Reviews
Encourage Customers to write & submit informative & high-quality reviews using Stamped Smart Assists.
About the app
Stamped.io is a highly-rated customer marketing platform with all the tools you need to capture and showcase high-impact Customer content throughout their buying journey.
* The app requires an account with 3rd party Stamped.io. Don't have an account, sign up from the app.
Boost Sales with Reviews
Collect Product & Videos, Site Reviews, Photo Reviews, Q&A, Instagram & Checkout Reviews easily to increase Social Proof & Conversions
Increase Traffic with Reviews
Push Product & Site reviews to Google, Facebook, Walmart, Instagram & Twitter. Use the power of Social Proof & Reviews to increase Sales
Improve Review Quality
Encourage Customers to write & submit informative & high-quality reviews using Stamped Smart Assists powered by predictive machine learning
::break::Key Features
On-site display widgets - Carousel, Side Drawer, All Reviews page, more!
Moderation - You choose which reviews get published
Commenting - Public or private comment on reviews
Add customer attributes (e.g. fit, age, waist, more)
Free-text search - Let your customers search reviews
Multi-lingual support
Social reviews sharing - Go viral with positive reviews
And more...
See what others have to say
about us on the Wix Marketplace.
"

"Before i start, I want you to know that this is an honest review. No bull crap. When I first downloaded the app to my store, I didn't realise I could not import Australian specific reviews for my Australian store. However, there were other countries available. I contacted the STAMPED support team and they added Australia there for me and even more amazing, they did all the same day. OMGGG!! They literally made my night. Highly recommended. "
— Buddyfavourites
"

"J'ai perdu beaucoup de temps à installer des applications qui ne fonctionnaient pas bien. C'est tellement plus facile depuis que je suis avec Stamped. J'espère que la version gratuite va continuer a bien fonctionné. Merci ! Isabelle"
— Creationgli
"

"Fácil de usar y si tienes algún problema se preocupan y te ayudan rápidamente. Recomendable."
— Story1961
"

"Absolutely love the Stamped app!!!!!! After converting from Shopify to Wix, it was hard finding apps that offered the same functionality as my old store until I decided to give Stamped a shot. After communicating with some of the amazing customer service reps and spending some time learning the app, I am highly pleased!!! I actually like it better than the app I was using on my old store. You guys are the best!!!!!"
— Reveremenscare
"

"I am so impressed with this app. And I am even more impressed by the amazing customer service I have received. There were a few small conflicts with my theme and customer service had them fixed within 24hrs. I'm blown away with their responsiveness and helpfulness. The app itself works so well, I really like that it shows reviews on the bottom of every product, that was something I couldn't do on Kudobuzz. And there are a lot of customizable options too including branding colours and what information shows under reviews."
— Rohaire
"

"There was a small issue and both stand customer service as well as poco went above and beyond with screenshots et cetera to help me and guiding me through all this to fix it. I highly recommend this app by the way it looks beautiful with a great layout - and easy to use on the backend."
— Jehanradwan
"

"Great app and support. We had to disable the script to stop the reviews showing on our website (which is a button and easy). We're happy and everything is working well."
— Tane48
"

"Relatively simple to set up and both the PoCo and Stamped.io teams have been fantastic at responding to queries whilst I get going. Thanks!"
— Annabriscoe
Watch our instructional videos
before you get started.
How to customize the review confirmation message
Frequently asked questions.
Why don't I see new reviews?
By default, all new reviews are hidden until you manually publish them from the Stamped.io website.
You can change this default behavior in your Stamped account.
How do I change the default confirmation message after a customer leaves a review
When a customer leaves a review on your website (not via email), they will see a default confirmation message that cannot be edited from the Stamped website.
To edit the message, you will need to add CSS code to your Wix website.
We created a
How To video
showing the exact steps, and code that needs to be added.
Start your free trial today and improve
your business growth!
Free
Free Free / mo
---
Boost Sales with Reviews
Display Reviews on Collections Pages, and Product Carousels
Side Drawer and Carousel Reviews on Product page
Requires a free or paid plan with Stamped.io
Start free trial
100% Satisfaction Guaranteed!
We stand by all our apps as well as our customer support, and we're committed to making sure that each of our apps work correctly for every customer. If for any reason you are unhappy with an app, if you misunderstood what it does, or simply have a case of buyer's remorse, contact us and we'll gladly issue a refund.