Wix Product Discount Planner
Schedule flash & holiday sales in advanced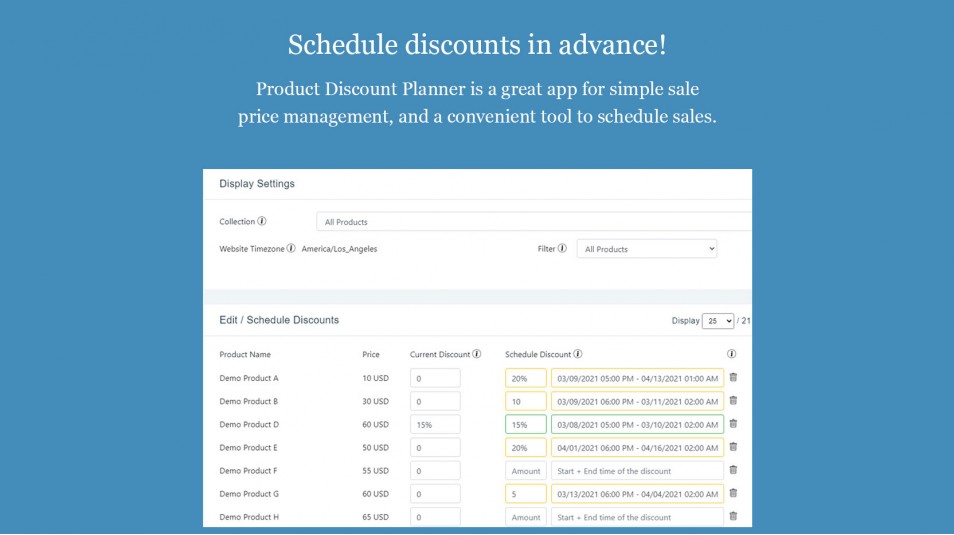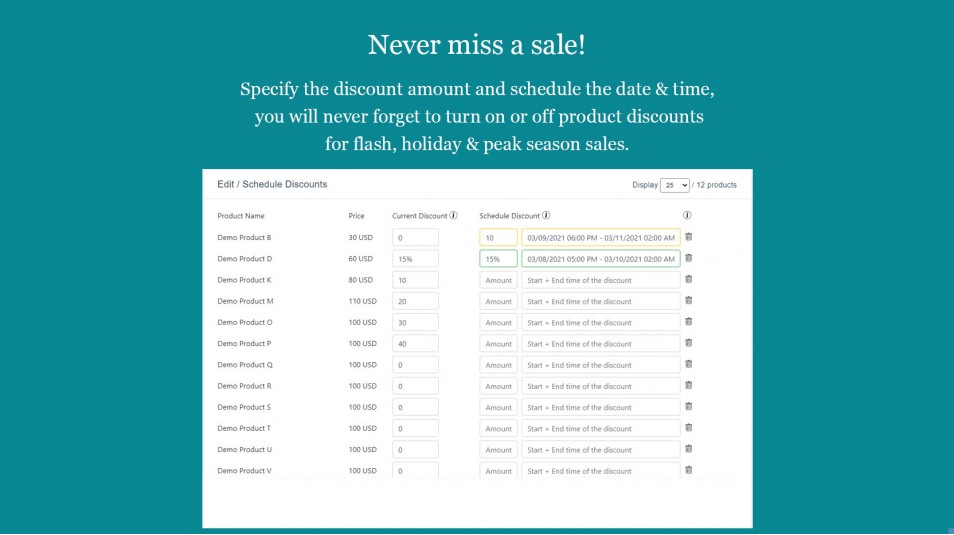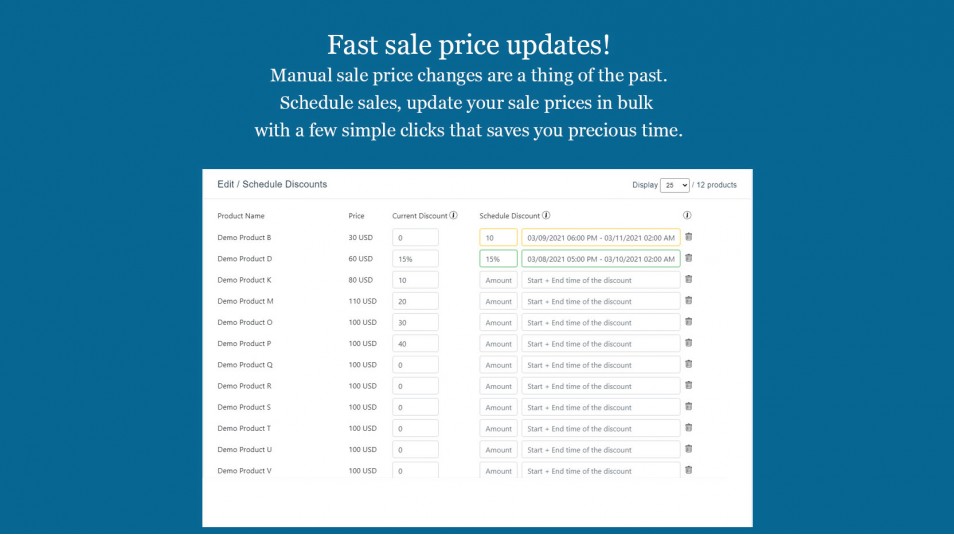 Save time by automatically scheduling your product discounts and never forget to turn a product discount on or off
Plan Ahead
Schedule all your product discounts in advanced, and avoid scrambling at the last minute
Bulk Scheduling
Apply discounts to multiple products at the same time, and edit them in bulk.
About the app
Schedule sales in advance!
Specify the product discount amount and schedule the date & time, you will never forget to turn on or off product discounts for flash, holiday & peak season sales.
Fast sale price updates!
Manual sale price changes are a thing of the past. Schedule sales, update your sale prices in bulk - with a few simple clicks that will save you precious time.
::break::Product Discount Planner is a great app for simple sale price management, and a convenient tool to schedule future sales.
While others waste time on double price-changing before and after sales, and risk losing money by not turning them off, you can do it in a couple of clicks. It's especially useful for short-term promotions and temporary holiday sales such as Mother's Day or Black Friday.
Change product sale prices in bulk and stop worrying about the need to revert them back to regular values on time.
See what others have to say
about us on the Wix Marketplace.
"

"I love the product discount planner app because it was slightly annoying having to manually do the discounts. I remember on our last sale I literally had to go through each product to change the pricing back to normal, it was so irritating & time-consuming. Plus I had almost forgot to change it back to regular pricing so I feel this app definitely brings value in helping us to schedule product discounts and manage our sales more efficiently!"
— Herbalhealingnation
"

"I highly recommend the app. An excellent management tool for managing the discounts of the products in the store. Allows me to give a discount to some products and schedule it. Many thanks and thanks to Tomer from customer service who is always there to help and patiently answer any question"
— Greengroupil
Frequently asked questions.
Will the app use my time zone?
Yes, our app will detect the time zone you have defined in your Wix store, and all the discounts you schedule will be using your local time zone.
Start your free trial today and improve
your business growth!
Free Trial
Free Free / mo
---
7 day free trial
Plan future flash sales
Schedule unlimited discounts
Edit existing discounts
Start free trial
Unlimited
$4.99 9% Off / mo
---
Unlimited usage
Plan future flash sales
Schedule unlimited discounts
Edit existing discounts
Subscribe to "Unlimited" Plan
100% Satisfaction Guaranteed!
We stand by all our apps as well as our customer support, and we're committed to making sure that each of our apps work correctly for every customer. If for any reason you are unhappy with an app, if you misunderstood what it does, or simply have a case of buyer's remorse, contact us and we'll gladly issue a refund.